January 29, 2018 - 4:00pm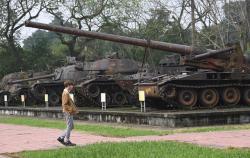 In this picture taken on January 17, 2018, a tourist looks at US-made tanks captured during the war, on display at the Revolutionary Museum in Hue. (Photo: Hoang Dinh Nam / AFP / Getty Images)
 
Thirty seconds: That's how long it takes to support the independent journalism at Truthout. We're counting on you. Click here to chip in!
Vietnam: it's always there. Looming in the past, informing American futures.