February 27, 2018 - 4:00pm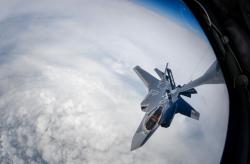 A F-35A Lightning II is refueled during a flight to Graf Ignatievo Air Base, Bulgaria, April 28, 2017. President Trump's proposed 2019 budget includes $10.6 billion for the underperforming aircraft. (Photo: Robert Sullivan / Flickr)
Whether you read Truthout daily, weekly or even once a month, now's the perfect time to show that you value real journalism. Make a donation to Truthout by clicking here!