May 12, 2018 - 2:00pm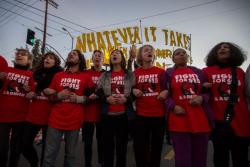 Striking McDonald's restaurant employees lock arms in an intersection before being arrested, after walking off the job to demand to demand a $15 per hour wage and union rights during nationwide 'Fight for $15 Day of Disruption' protests on November 29, 2016 in Los Angeles, California. (Photo: David McNew / Getty Images)
The only way Truthout can maintain a sanctuary for real, independent news is with your support. Make a tax-deductible donation today!