May 7, 2018 - 2:00pm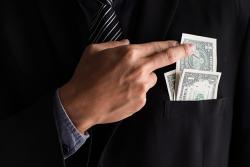 (Photo: Audtakorn Sutarmjam / EyeEm / Getty Images)
Like what you're reading? Help Truthout publish more articles like this one by donating now!
Everyone with a 401(k) has been impressed by the stock market's run-up in recent years. Even adjusting for inflation, the S&P 500 is more than 20 percent higher than its peak in the 1990 stock bubble. Of course, the economy is nearly 40 percent larger, which makes the run-up somewhat less striking.