July 22, 2017 - 3:07am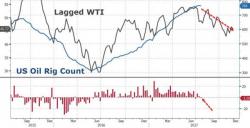 For only the second time in the last 27 weeks (and 4th in the last 56 weeks), the number of US oil rigs fell last week (down 1 to 764 rigs). There is a growing concern that the rising rig count has now outpaced the lagged response to pricing and is due to rollover further...

Notably the Canadian oil rig count rose by 12 last week.