March 20, 2018 - 2:47am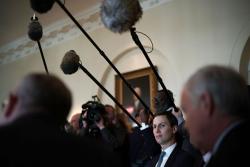 Jared Kushner, White House senior adviser and son-in-law of President Trump, listens during a meeting between Trump and congressional members in the cabinet room of the White House, February 13, 2018, in Washington, DC. (Photo: Alex Wong / Getty Images)
Why doesn't this site have ads? In order to maintain our integrity, Truthout doesn't accept any advertising money. Help us keep it this way -- make a donation to support our independent journalism.