March 3, 2020 - 6:26am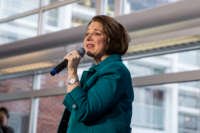 Sen. Amy Klobuchar of Minnesota has suspended her campaign for the Democratic presidential nomination.
Klobuchar's exit from the race leaves her fellow Sen. Elizabeth Warren of Massachusetts as the only viable woman vying to take on President Donald Trump in the 2020 election.
The senator from Minnesota plans to endorse former Vice President Joe Biden, according to the Associated Press.