October 26, 2016 - 9:55am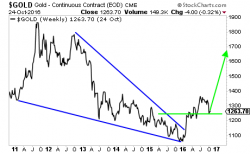 The biggest moves… the ones that make the MOST money in the markets are the ones no one is talking about for months.
With that in mind, you NEED to know that the Fed is going to let inflation run wild in the US.
That is not a hypothesis. In the last month we've had THREE different Fed officials state that they WANT inflation and that the Fed will let it run BEYOND the Fed's target 2% rate.
First up was Chicago Fed President Charles Evans on October 11.