May 27, 2018 - 2:00pm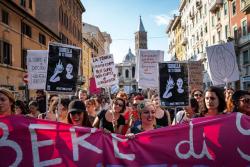 Women protest in a "Obiezione Respinta" demonstration organized by the "Non una di meno" movement to remember the 194 Law against abortion after 40 years, on May 26, 2018, in Rome, Italy. (Photo: Antonio Masiello / Getty Images)
Ready to challenge injustice and spark real change? So are we. Support Truthout's mission today by making a tax-deductible donation.