April 17, 2018 - 2:00pm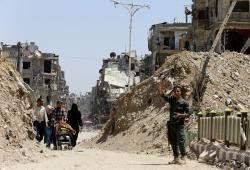 A Syrian government soldier flashes the sign for victory as people walk along a destroyed street in Douma on the outskirts of Damascus on April 16, 2018. (Photo: LOUAI BESHARA / AFP / Getty Images)
"Freedom of the press" doesn't mean much if the news is sponsored by corporate advertisers. Nonprofit, noncommercial media needs your support: Click here to make a one-time or monthly gift to Truthout.