May 15, 2018 - 2:00pm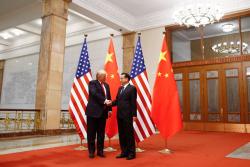 US President Donald Trump (L) shakes hands with Chinese Premier Li Keqiang during a meeting at the Great Hall of the People in Beijing on November 9, 2017. (Photo: Thomas Peter / AFP / Getty Images)
Journalism with real independence and integrity is a rare thing. Help Truthout keep publishing grassroots journalism and bold ideas -- make a tax-deductible donation today.