May 21, 2018 - 2:00pm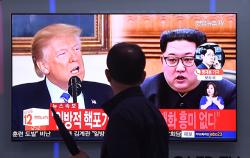 A man walks past a television news screen at a railway station in Seoul, South Korea, showing North Korean leader Kim Jong Un and Donald Trump on May 16, 2018. (Photo: Jung Yeon / AFP / Getty Images)
Truthout exists to sift fact from fiction and rhetoric from reality. Can you help us continue this critical work? Click here to make a tax-deductible donation.