March 5, 2020 - 3:16am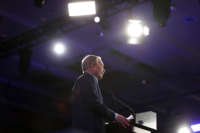 Super Tuesday marked the first time former New York City Mayor Mike Bloomberg appeared on a Democratic primary ballot and his last night in the campaign.
Bloomberg announced that he would suspend his campaign on Wednesday after he failed to finish in the top two in any state on Tuesday. The billionaire former Republican endorsed former Vice President Joe Biden, who reemerged as the frontrunner after piling up wins across the country.